My dogs made me do Whole30. I'm not kidding. My raw fed dogs were eating healthier than I was so I decided to do The Whole30 Challenge and make the switch to real food too. For the full scoop on my motivation to do Whole30 – here you go. For those of you that want to hear about my results and learn what benefits you can expect during Whole30 – continue reading.
How were my 30 days on The Whole30?

Got through 30 days fairly easily. I am a type A, driven personality and when I put my mind to something success is my only option. :-D.
Never had a bad hangover phase – I read a lot about the horror stories and prepared myself with the Official Whole30 Timeline of what to expect along the way. My symptoms were very mild. I had a mild headache for two days. It's different for everyone.
Started sleeping good in the first few nights. This is huge!
My improved sleep quality so outweighed any adverse effects my body was going through that I felt better almost immediately. I strongly attribute my improved sleep quality to not drinking my beloved wine. Sparkling water became my go-to evening beverage.
While not drinking didn't bother me, I realized how uncomfortable it made everyone else around me (who was drinking). For a split-second, I wondered was I not fun unless I was drinking and then I chalked it up to the fact that it puts a spotlight on their (bad/not so good) habits.
I also realized how many of my eating and drinking habits were part of daily routines and that by changing my routine and doing something different during that time-slot helps to break the pattern and "bad" habit and change my mindset.
My cravings were minimal.
I was truly bracing myself for the absolute worst experience ever (and so was my husband). But in the end, my 30 days on Whole30 were so positive that I went 45 days before doing the reintroduction phase and still today maintain about 90% clean eating on a regular basis.
What Can You Expect?
The amount of suck you experience during Whole30 is directly proportional to the amount of crap you consume before you begin the program.
If you stick to the Whole30 for the full 30 days with no slip-ups you will see results in some way, shape or form which are as uniquely different as to how you feel going through it. There's no one size fits all to this.
These results will vary by person.
Reintroduction Phase – What did I test and learn?
This is a very important phase to do and do right as that's the point of the Whole30 elimination process  … to determine food sensitivities and allergies that your body has so as to avoid them in the future. Food is fuel for your body so it's important to determine the best fuel for you. I waited 45 days before beginning this phase.
I started to reintroduce foods as suggested in the official guidelines for Phase 2 Whole30 Reintroduction. It states that if you didn't miss a food or food group don't feel as though you need to reintroduce everything.
Day:
1: Legumes – I had some peanut butter and peanuts – no issues, but realize I like almond butter as much or better.
3 and 4: Back to Whole30
5: Gluten-free grains – I ate white rice and oatmeal – no issues, but again I'm loving cauliflower rice which is a healthier rice alternative.
6 and 7: Back to Whole 30
8: Dairy – I had heavy cream in my coffee, cheddar cheese with lunch and plain greek yogurt with berries after dinner. Within an hour after eating the yogurt I had a migraine headache that lasted 2 days. I had no idea that dairy can cause migraine headaches and fatigue. This is big learning for me as I use to consume large amounts of dairy daily. In fact, cheese should have been its own food group in my book. Dairy was by far my worst reaction. Moving forward I consume dairy in moderation if at all.
9 and 10: Back to Whole30
11: Gluten – I ate avocado toast for breakfast and pasta for dinner which made me feel gassy.
Alcohol is not part of the official reintroduction. If you do add it back in make sure it's done after the official reintroduction period. My first glass had me feeling tipsy in just a few sips so I added sparkling water and turned it into a spritzer. Alcohol will remain more of a special occasion thing versus the daily routine it was.
As I've continued to test different things I've realized that for me it's about MODERATION.
I push for expanding my menu variety within all the good foods and that keeps things new and exciting.
How do I feel after Whole30 and how can it make you feel?
Like doing the happy dance!
I wake up refreshed after a great night sleep and feel so empowered and accomplished at the end of every day of clean eating. These positive vibes and great feelings are the fuel sources that power me though. I've NEVER felt so good!!
The reality is I want to hang on to this amazing feeling forever. Who wouldn't!
My Whole30 Results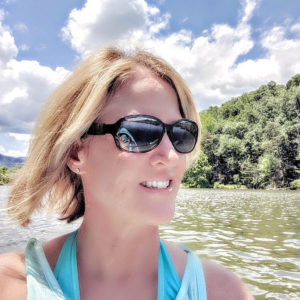 The program prohibits stepping on the scale during Whole30, but with healthy eating, it's no surprise that weight loss happens.
In 30 days I lost 10 lbs. I continue to eat clean and I'm now down a total of 15 lbs and feeling great.
Based on the measurements I took pre and post,  I lost:
1 inch from my bust
2 inches from my hips
3 inches from my waist
It's really tremendous how much my entire body and mindset has changed (inside and out). These are the dramatic, life-long benefits I'm realizing and ways your mind and body could change too:
My Physical (Outside) Whole30 Results
Clearer skin and no more under-eye circles. This is a significant improvement. I also started taking collagen powder which I think is a huge factor too.
More youthful appearance and glowing skin
Longer, stronger nails and stronger, shinier hair – and more hair too. Again, the good eating and collagen boost are the double whammy of goodness here. I have new hair growth that's now 2-3 inches.
Brighter eyes
Flatter stomach and a leaner appearance
Clothes fitting better
Less bloating
My teeth are whiter
More defined muscle tone
Less dimpled skin
I feel more confident
Physical (Inside) Whole30 Results
Less swollen, stiff, painful joints. No more shoulder/back/knee pain. Again, I also think the collagen powder is helpful here too.
Fewer PMS symptoms
Less bloating
No more chronic fatigue – greatly improved
Improved blood pressure.
Mood, Emotion, and Psychology
I'm nicer, more optimistic and more patient.
No more mood swings.
I am happy and more outgoing.
My blood sugar levels are now in check
Calmer and less stressed
Improved depression symptoms
No more sugar cravings. No more carb cravings.
Improved body image, self-esteem, and self-confidence
Brain Function
I think more clearly and I have better focus and concentration and remember things more easily.
I am more productive.
Sleep Results on Whole30 (and beyond)
I fall asleep more easily
Sleep more soundly – I am sleeping great, best sleep in my adult life. I am sleeping through the night and if get up I fall back asleep super fast vs. up for two hours in the middle of the night every night. This one is huge for me and positively impacts everything else.
Stay asleep longer
I wake up energized between 5-6a without an alarm versus waking up tired.
I awaken feeling refreshed
Energy
My energy levels are consistently high
No more mid-day slump
More energy to exercise
I no longer need to eat every 2 hours and no longer get cranky if I don't
No longer need sugar or caffeine to prop up your energy
Sport,  Exercise, and Play
I remained consistent with my exercise and didn't change my exercise routine.
I feel more coordinated.
My balance is better. I am a member of the Lake Lure Cloggers so I really put this balance thing to the test daily with our dance routines.
Food and Behaviors – Whole30 Results
I have a healthier relationship with food and practice mindful eating.
Reading food labels is second nature now and most of the healthy foods I eat do NOT have labels. Yay!
I know which foods make me more healthy or less healthy and feel better vs. feel lousy.
Learned to listen to my body
Abandoned the idea of a weight loss quick-fix forever
I am no longer afraid of dietary fat
Learned how to cook new recipes
Don't use food for comfort, reward or stress management – it's fuel for my body – the better the food, the better the fuel
I am no longer a slave to sugar and carbs
Have fewer cravings or none at all.
Naturally have more variety, color, vitamins, and minerals in your diet
Food no longer has unwanted "side effects"
Lifestyle and Social Whole30 Results
I am more knowledgeable about nutrition and I have learned more about shopping locally and eating seasonally.
My cooking skills have improved and my recipes repertoire has grown.
Mealtime prep is organized and efficient.
I have made new like-minded friends who support my eating style.
I know how to create a health goal and stick to it for success.
People come to me for advice on how to change their lives and I'm helping a few friends succeed with The Whole30 as we speak.
Who wouldn't want to feel this good!
Here are more helpful Whole30 resources to help you make the switch to real food and have a better life!
Real Food Ain't Just for Dogs – My Real Food Whole30 Challenge
Whole30 Survival Guide – Helpful Tips, Tricks & Healthy Hacks for Success
Real Food • Better Life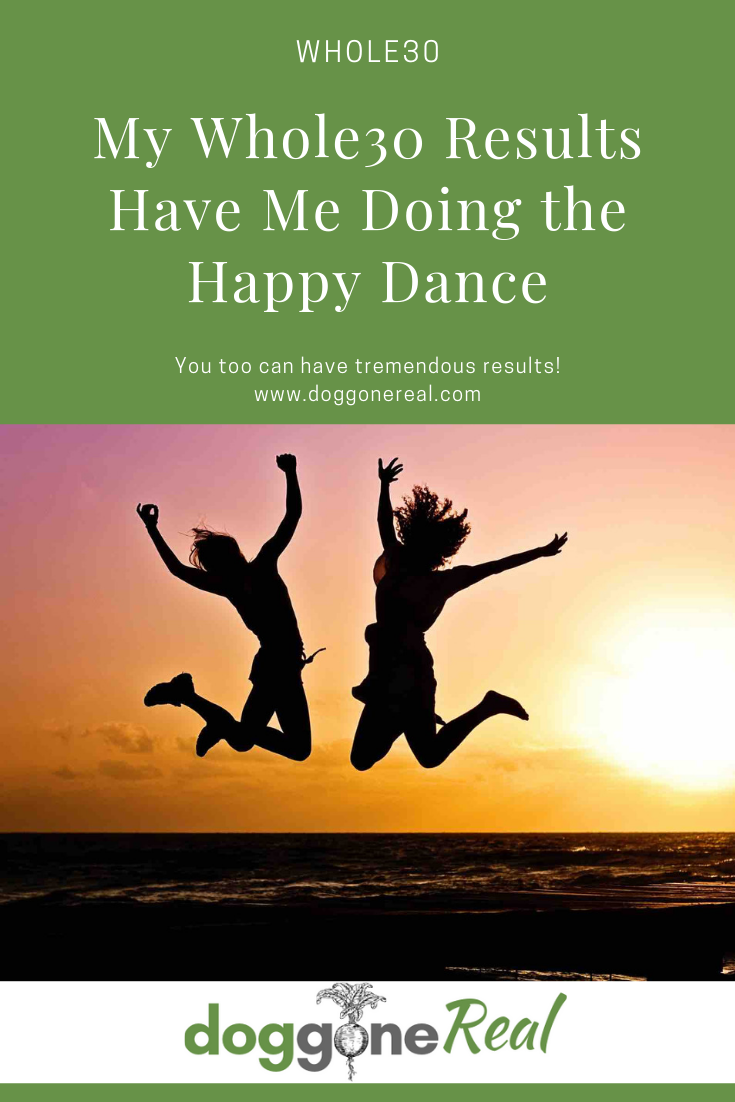 (Visited 332 times, 1 visits today)