Dog-friendly National Parks are fun to explore with your best friend. But, it's important to be informed as National Parks are notoriously strict when it comes to pets. This is really for their safety with the abundance of wildlife and natural encounters that can occur. Not to mention the abundance of visitors that frequent these popular parks. That said, visiting off-season is always a good thing to consider.
By following their pet safety rules you can enjoy a wonderful day with your dog in 10 of America's Dog-Friendly National Parks. And, we are here to help get you prepared with these helpful details on pet regulations for each park, links for more information, and informative videos for a first-hand look at these beautiful dog-friendly parks complete with suggested hikes and spots to visit with your furry friend.
Note: Ratings are based on the most visited national parks and are not based on "dog-friendliness", but all openly welcome your furry friends.
Dog-Friendly National Parks
This is one of the best dog-friendly National Parks. Dogs must be kept on a leash at all times and are allowed in campgrounds, picnic areas, and along roads. The leash must not exceed 6 feet in length. Dogs are only allowed on two short walking paths where you can hike with your dog —the Gatlinburg Trail and the Oconaluftee River Trail.
Dogs must be leashed at all times. On the South Rim, leashed pets are allowed on trails above the rim, Mather Campground, Desert View Campground, Trailer Village, and throughout the developed areas.
Pets are not permitted below the rim, in park lodging (hotel rooms), or on park buses. The only exception would be a service animal. Persons wishing to take a service animal below the rim must check-in first at the Backcountry Information Center
Pets are only allowed in developed areas, on fully paved trails and roads. There are some exceptions where pets are not allowed and these are noted with signs. Pets are not allowed off the floor of Yosemite Valley, including the trail to Vernal Fall, and in campgrounds (except Tamarack Flat, Porcupine Flat, and walk-in campgrounds).
While Yellowstone Park has strict pet regulations, it is a national park that can't be missed. Pets may accompany you in the front country areas of the park. This includes any areas within 100 feet of roads, parking areas, and campgrounds. Pets must be kept under physical control at all times – caged, crated, or on a leash not to exceed six feet in length.
Pets are permitted in Rocky Mountain National Park, however, they are not permitted on trails or in the backcountry. One dog-friendly place that you can explore with your dog is Old Fall River Road. the road itself is 11 miles long. the hike is approximately 1.4 miles to Chasm Falls. Dogs are allowed only in areas accessed by vehicles, including roadsides, parking areas, picnic areas, and campgrounds.  They must be kept on a leash no longer than six feet and attended at all times.
Pets are permitted only in park campgrounds, picnic areas, and parking lots, along with several ocean beaches. Pets are allowed in the following three areas where leashed (up to six feet in length) pets are permitted: Rialto Beach one-half mile north to Ellen Creek, all Kalaloch beaches (from Ruby Beach south to South Beach), and Peabody Creek Trail.
Pets are allowed inside Grand Teton National Park, but they must be restrained at all times and are not permitted on hiking trails, inside visitor centers or other facilities. A good rule of thumb is that a pet may go anywhere a car may go: roads and road shoulders, campgrounds and picnic areas, parking lots, etc. Pets must be on a leash (six feet or less), under physical restraint, and within 30 feet of the roadway. Pets are not permitted on any park trails or in the park backcountry.
Leashed pets may be walked on the Pa'rus Trail: however, pets are not permitted on any other trails, on shuttles, in public buildings, or in the backcountry. Pets must be under physical control on a leash less than six feet long at all times.
Hands down Acadia National Park seems to be the most dog-friendly National Park. With some restrictions, you may bring your pet with you to Acadia National Park. At all times, pets must be restrained on a leash no longer than six feet in length. Where you CAN go with your pet:
There are 100 miles of hiking trails where you can hike with your dog and 45 miles of carriage roads in the park where pets are permitted.
Blackwoods and Seawall Campgrounds permit pets.
On Isle au Haut, pets are permitted for day hiking only.
The Jordan Pond is an easy 3.4 -mile hike that follows the path around Jordan Pond.
Pets must be restrained on a leash that is six feet or shorter in length on all parklands at all times. Pets, with the exception of service animals, are not permitted in park buildings or on the train.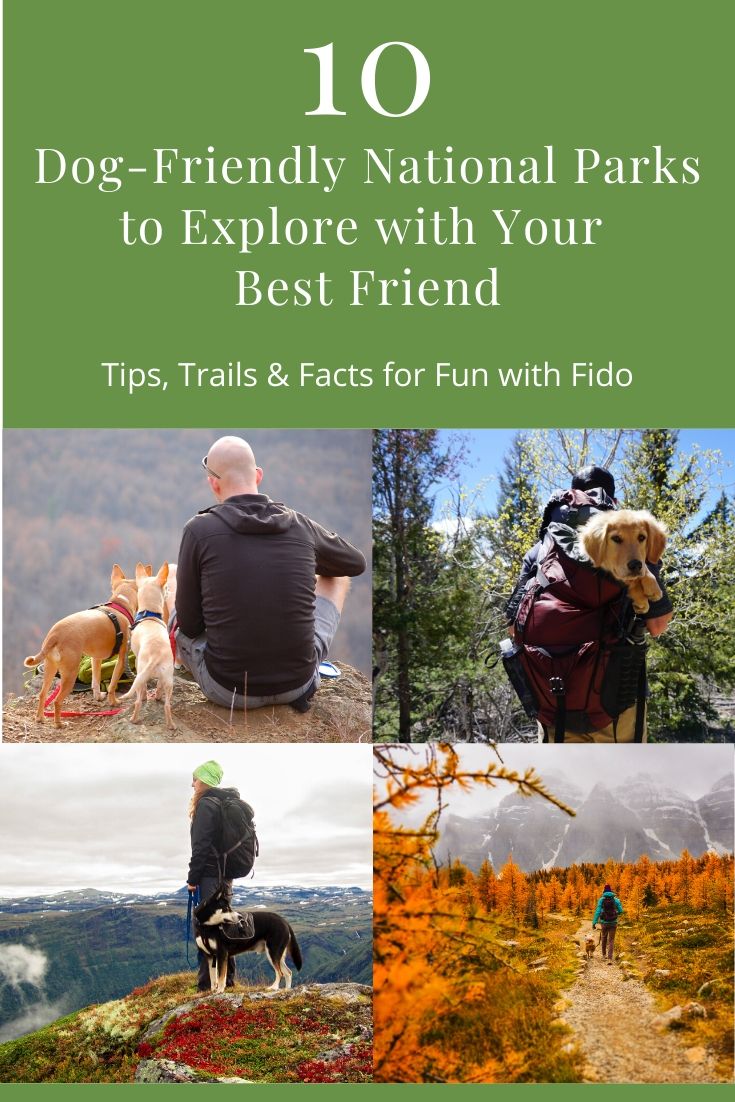 Happy travels as you set out to enjoy one of these beautiful Dog-Friendly National Parks!
(Visited 264 times, 1 visits today)