What Meat Can Dogs Eat?
Dogs can eat a lot of different meats from various sources but it's important to know which are safe and which ones should be avoided. Our list of What Meat Can Dogs Eat? covers meat sources that are safe for your dog to eat –  from common to crazy and exotic. We also include cautions and preparations to be mindful of.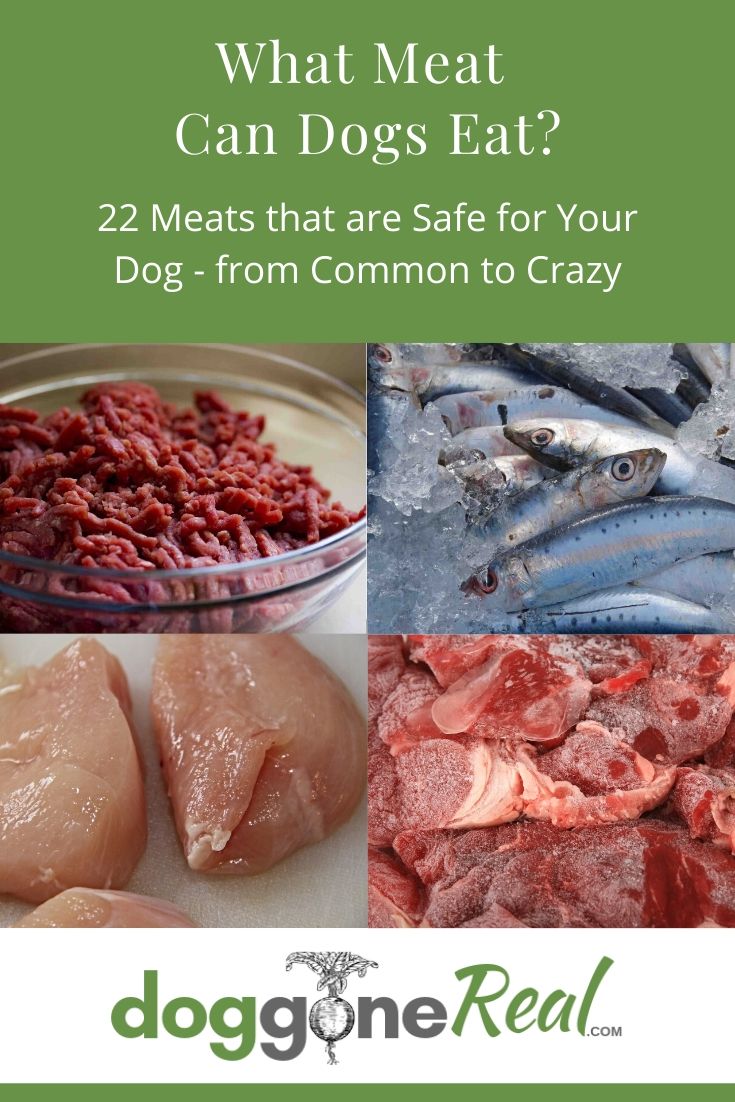 Alpaca – lean, low calorie, high protein
Beef (cow) – great protein source but watch fat content – lean, organic, grass-fed varieties are best
Bison – another great protein source, less fat than beef and full of vitamins
Buffalo – a high iron, protein-packed option
Chicken – readily available and a more affordable option
Deer/Reindeer (venison) – very lean protein source – one of the leanest
Duck – a rich protein source but watch the skin as it is high in saturated fat
Eggs – not technically a type of meat but it contains all 20 amino acids making it a perfect protein source. I feed my dogs eggs (both raw and cooked) with the shell.
Elk – another great, vitamin-rich protein source
Emu – very low in fat and high in protein
Goat – a great source of protein, vitamins, and minerals
Goose – safe for dogs but serve a small quantity as it's high in fat and cholesterol
Kangaroo – low-fat protein
Lamb/Mutton – a great source of protein however it is higher in fat than other options
Llama – lean, high protein
Moose – another lean protein source high in vitamins
Ostrich – low fat, highly digestible protein alternative
Pheasant – a great source of lean protein
Quail – another great source of lean protein
Rabbit – very low in fat, great protein source for dogs with allergies and food sensitivities
Sardines – Raw – Great protein source that's full of omega-3 fatty acids. This small oily soft-boned fish is less likely to contain mercury and toxins than larger fish higher up the food chain. Herring is another great option. Dog's Naturally Magazine states that you can feed Sardines whole and raw two or three times a week. If you feed your dog canned sardines (water/no salt is best), for a 40-50 lb dog, give ¼ of a 3.75 oz can of sardines per day along with other foods. There are usually 4 sardines in a can so that would amount to 1 sardine a day. I worry about oxidation so I don't store canned sardines in the refrigerator after opening. I have 2 dogs so I split the can each time they are fed.
Turkey – a very good protein source that is readily available
What Meat Can Dogs Eat – WITH CAUTION
Be careful if your dog consumes the following meats as there are certain warnings or concerns to be mindful of.
Pork – Cooked – OK in moderation – Possible carriers of trichinosis so recommend feeding cooked pork only to your dog.
Salmon – Raw or Cooked – Feed with caution – Pollution and toxin concerns based on the sourcing and also the potential for elevated mercury levels if fed fish regularly.
Trout – Raw or Cooked – Feed trout with caution. It's best to feed your dog wild freshwater trout from unpolluted waters vs. farmed trout.
For more information on feeding fish to dogs, check out this article from Dog's Naturally Magazine – Can Dogs Eat Fish?
AVOID – Meats That Your Dog Should NOT Eat
Best to NOT feed your dogs the following types of meat:
Bear
Fox
Polar Bear
Walrus
Wild Boar
Per Dr. Karen Becker, DVM – Trichinosis is a parasitic disease caused by eating raw or undercooked pig or wild game infected with larval Trichinella. There are eight species of this worm.

The majority of human infections in the U.S. are a result of eating undercooked wild boar, bear, or fox meat. So, I recommend not doing that.

According to the FDA's website, Trichinella larva may be inactivated by heating, freezing, or irradiation of meat. One interesting point: freezing may not be entirely effective for inactivating Trichinella nativa, which is a species of Trichinella found in the Arctic. Reservoir hosts include the polar bear, Arctic fox, and the walrus.

The important thing to remember about Trichinella is this: if you freeze pork for three weeks prior to feeding it, all will be well. And of course, don't feed your pet any raw polar bear, Arctic fox, or walrus!
Can I Feed My Dog Meat with the Bones?
NEVER give your dog cooked bones of any kind. Cooked bones splinter into shards that can cause choking and can seriously damage the dog's mouth, throat, and intestines. Always serve bones RAW and it is best to grind raw nutritional bones to avoid concerns of choking.
This article by Pet MD – How to Use Bones in a Dog's Raw Food Diet is a helpful Vet authored an article on the best ways to incorporate bones into your dog's diet, which bones are best and more helpful tips on the topic.
Do I Need to Freeze Raw Meat Prior to Feeding It To My Dog?
Research suggests that freezing certain meats can kill parasites.
Dr. Karen Becker, DVM states "The important thing to remember about Trichinella is this: freeze pork for three weeks prior to feeding it, all will be well." And she states to "deep-freeze salmon for at least seven days if you're going to feed it raw, or cook it before feeding it to your pet." Here is her helpful article on the topic.
My rule of thumb is 3 -4 weeks in the freezer for any fresh-caught or fresh-killed meat or meats with a higher likelihood of containing certain parasites. But, some people don't find this to be necessary.
That said, it's important to remember that consuming raw meat is what dogs are designed to do. Their very short digestive tract and a highly acidic stomach move food and break it down quickly.
To round out your dog's diet, learn about fruits that dogs can eat and veggies dogs can eat in our in-depth article on 40 Fruits and Vegetables Dogs Can Eat and Can't Eat
(Visited 11,098 times, 1 visits today)