Can Dogs Eat Watermelon?
Watermelon is safe for dogs to eat.
It's a nutritional powerhouse full of vitamins A, B-6, C, and potassium. It's also rich in antioxidants that aid in heart health and boost immunity. At 92% water, it's low in calories, fat-free, cholesterol-free, and provides great hydration for your dogs and can help quench their thirst on a hot summer day.
All-in-all it's a much healthier option than many store-bought treats.
PIN IT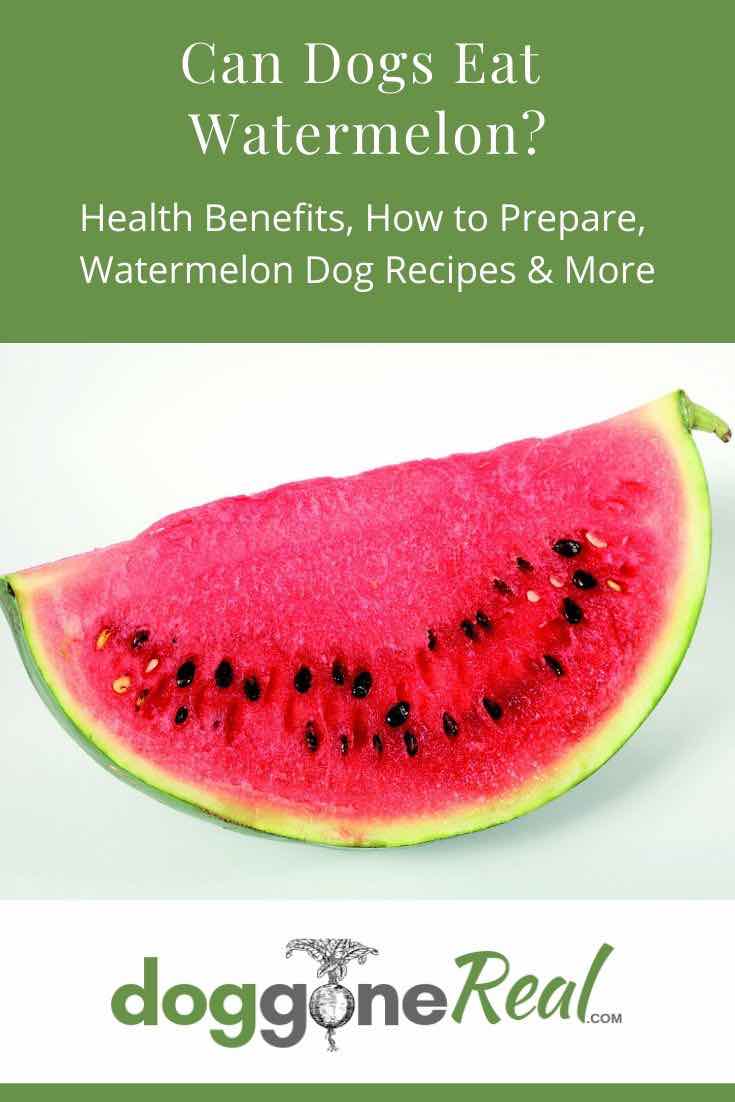 Watermelon Nutrition Facts
According to the USDA, one cup of diced watermelon contains approximately:
46 calories
11.5 grams carbohydrates
1 gram protein
0.2 grams fat
0.6 grams dietary fiber
12.3 milligrams vitamin C (21 percent of Daily Value)
865 international units vitamin A (17 percent of Daily Value)
170 milligrams potassium (5 percent of Daily Value)
15.2 milligrams magnesium (4 percent of Daily Value)
0.1 milligrams thiamine (3 percent of Daily Value)
0.1 milligrams vitamin B6 (3 percent of Daily Value)
0.3 milligrams pantothenic acid (3 percent of Daily Value)
0.1 milligrams copper (3 percent of Daily Value)
0.1 milligrams manganese (3 percent of Daily Value)
Top Benefits of Watermelon
Boosts Immunity – Watermelon is rich in antioxidants and has been shown to reduce inflammation and help reduce oxidative stress which is beneficial to all dogs and especially to those who are aging or sick. The antioxidant lycopene is found in abundance in this fruit and has been shown to defend against certain types of cancer.
Improves Heart Health – Watermelon contains a good amount of both potassium and magnesium which are associated with good heart health. Dogs are at an increased risk of suffering a heart attack or heart failure if they become deficient in potassium.
Aids in Muscle Recovery and Pain Relief – Potassium and magnesium are also important in muscle recovery and pain relief. This can benefit aging dogs and dogs that are very active/overactive.
Keeps Skin and Coat Healthy – Because of its high content of antioxidant vitamins A and C, watermelon benefits skin and coat health. These same vitamins also aid in nerve and muscle function.
Can Dogs Eat Watermelon Rind and Watermelon Seeds?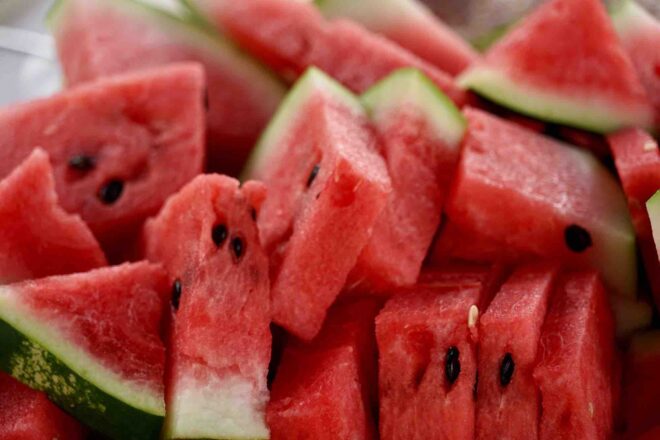 While watermelon is safe for dogs to eat, it is important to first remove the seeds, as they can cause intestinal blockage. If a few seeds are accidentally eaten, larger dogs may be able to pass the seeds, but smaller dogs may have more difficulty. That said, your best bet would be to buy a seedless watermelon for your dog.
It is also important to remove the rind as this is also not safe for dogs. The skin and rind are difficult to chew and digest and as a result, the rinds can also cause digestive issues and blockage.
How Much Watermelon Should You Feed Your Dog?
Everything in moderation is key for us as well as our beloved pets. Said another way, too much of a good thing … can be bad. With its high water content, consuming too much watermelon can cause your dog to get diarrhea.
It is best to introduce new foods on a very limited and controlled basis so that you can watch and observe for any side effects.
As with any dietary change and new food introduction, it's important to first consult your veterinarian or dog nutritionist to ensure that watermelon safely works into your dog's specific diet and dietary needs.
How to Prepare Watermelon for Dogs?
The easiest way to prepare watermelon is to remove the rind and the seeds (if not buying a seedless watermelon) and then scoop it or cut it up into bite-sized pieces for your furry friend to enjoy as a treat or snack.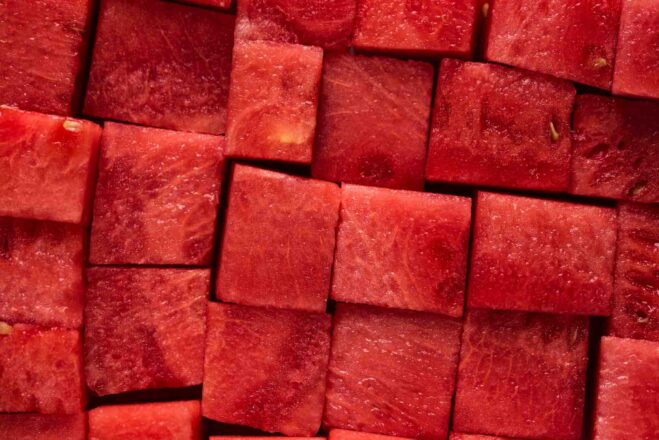 Another way to prepare watermelon for your dog is to juice it or blend it. You can then serve as is or freeze it for your dog to enjoy.
Recipes With Watermelon
Watermelon and Bone Broth Frozen Dog Treats
Watermelon Ice Cream for Dogs
Learn more about other fruits and vegetables dogs can and cannot eat here. Our list of the 40 Fruits and Vegetables Dogs Can Eat and Can't Eat provides a quick, easy reference to get it right. Feeding your dog fruits and vegetables has many benefits, but it's important to know which ones are safe and healthy for your dog and which ones should be avoided.
(Visited 392 times, 1 visits today)