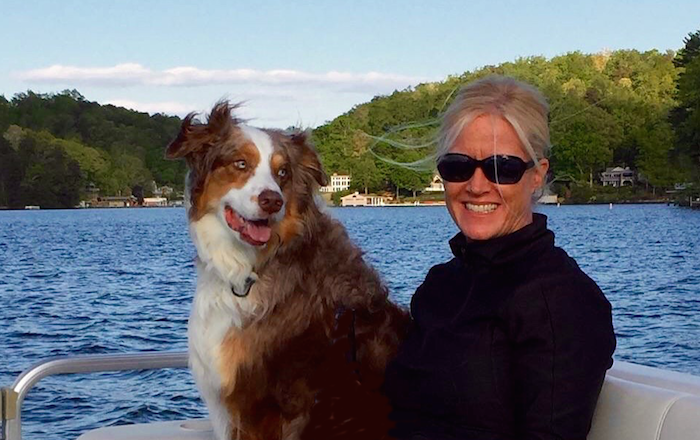 Hi! I'm Lisa and I'm a dog nutrition blogger and raw feeder in Lake Lure, NC. I'm the proud pet-parent of this big fluffy dog, Gunner, and a little guy named Colt. They are both amazing Australian Shepherds. And, they are both being raised on a species-appropriate, raw dog food diet and have been since birth.
The benefits of raw dog food are enormous. Their health, energy, and stamina are outstanding. Best of all, their visits to the vet are strictly routine – they show no signs of allergies, chronic illnesses and other health problems that afflict so many dogs.
Like a doting parent, I want to make sure that all my dogs live the longest and happiest life possible. Dog Gone Real is dedicated to helping you make smart food choices for your fur babies so they can live their best life. We also share ways to have fun, play with and pamper your pooch … because the mental health of your dog is doggone important too.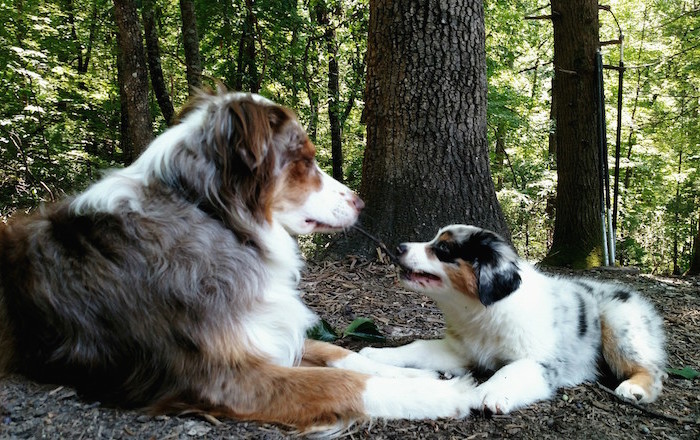 The Inspiration for Dog Gone Real and Our Road to a Raw Dog Food Diet
Like many animal lovers, I think of my dogs as members of my family. So losing my beloved Australian Shepherd, Maggie, at age 8 to acute renal failure was devastating. It's possible Maggie's failing kidneys were from a hereditary issue, but even so, how much did her diet contribute to her health struggles and early death? I felt inspired to dig deep into the research and data about canine nutrition so my other dogs would have the best chance for long, healthy, exuberant lives.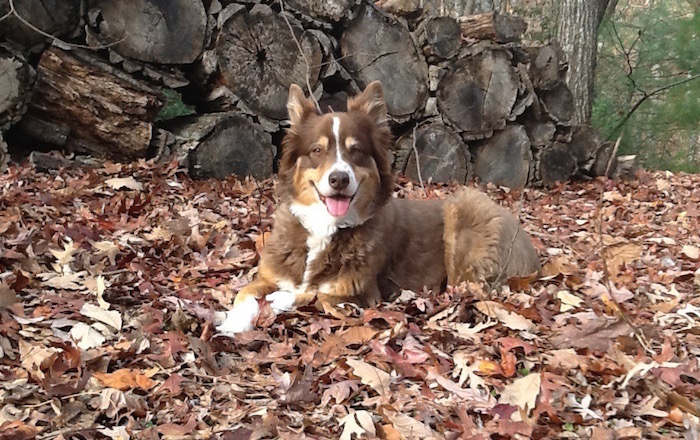 My extensive research led me to a breeder who raised all of her dogs on a raw diet. And it made sense to me – dogs are descendants of wolves, which, in their natural state, thrive on raw foods. I had to acknowledge that the dry, heavily processed kibble I'd been feeding my dogs could have led to or exacerbated Maggie's kidney failure. And I felt guilty for not having thought about it before. Most thinking people would never try to live healthfully on nothing but bagged heavily processed food. Why was I forcing it on my cherished dogs, who had no say in their diet?
The Beginning of a Transformation to a Raw Dog Food Diet
The more I delved into it, the more I found evidence that dogs prosper better on fresh, raw, unprocessed food, and it ushered in a new era for our other dogs, Casey, who was 12 then, and our puppy, Gunner, who we raised on raw dog food from birth.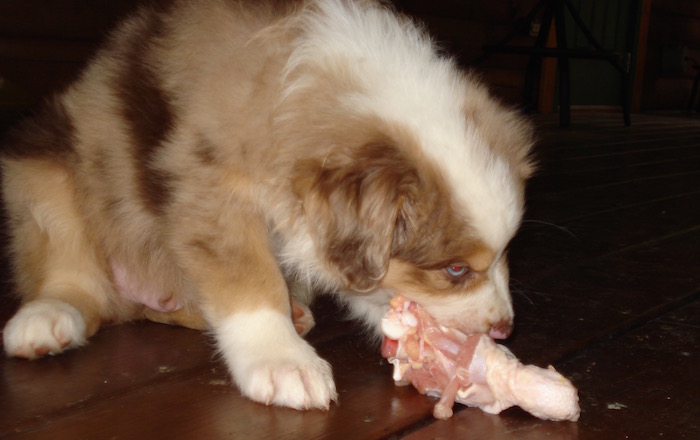 Casey lived to be 17.75 years old, and we attribute her longevity to the switch to a raw diet. The transformation in her energy, vitality, even her mood, was evident almost immediately. And Casey's preference for a raw dog food diet over dry, processed kibble was undeniable. This is the food she was meant to eat.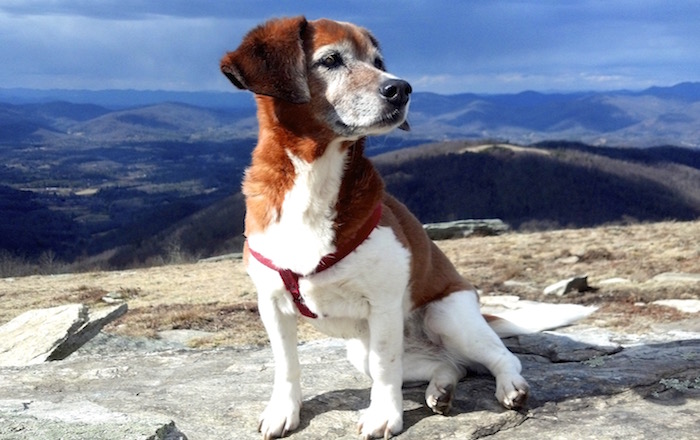 More Than Just Food – Real Nourishment
Dogs' pointy teeth are called canines for a reason. Every dog, no matter what breed, has them, and they're designed to eat meat, preferably raw. Dogs' digestive systems, like their wolf predecessors, were designed to digest and metabolize raw meat, bones, and organs. They were not designed to metabolize the grains and fillers present in most commercially available dog foods.
Perhaps most important, dogs love a raw, lean-protein-rich diet. It's what their bodies were designed for, so dogs eat raw foods with gusto and enjoyment, and typically have no weight or diet-related health issues.
When I think about the largely empty calories, hard-to-digest grains, lab-manufactured fillers and other questionable contents I'd fed my dogs all those years, I'm a bit astounded. I'd just accepted processed store-bought dog food as being what dogs needed to be happy and healthy. Now I compare it to trying to raise a child on corn chips and French fries and expecting them to be at their peak.
What had I been thinking?
Healthier Dogs Start With Smarter Humans
As we get shrewder about what goes into our own bodies, of course, we want to extend our newfound wisdom to our four-legged family members. It's just logical that dogs, like people, have better health and energy when the food they eat nourishes them completely, instead of simply filling their stomachs.
I wish we'd known about raw food while Maggie was still with us. She was the inspiration for change, and I know she'd be happy she has improved the lives of our other delightful pooches – and hopefully many others, too.
They give unconditional love and make us happy. Wake up excited to start every day and go to bed tired after a day well-lived. Teach us to appreciate the little things and to live with enthusiasm. They give us so much … it's the least we can do for them. Real food. Real fun. For dogs.
(Visited 924 times, 1 visits today)