So, I just completed my very first Whole30 Challenge and you're probably wondering two things …
Why did I do Whole30 and some may wonder what the heck it is?
What does Whole30 have to do with this website about real food for dogs?
I had an epiphany and well, here's the brief backstory…
Why did I do The Whole30 Challenge?
I woke up one day and was just plain tired … of being tired … all … the … time! I needed to lose weight and I just felt blah and honestly a little depressed. I'm battling hormonal changes with that lovely change of life phase approaching, my hair was thining, my joints were aching not to mention my increased moodiness and irritability.  I realized that I needed to do something to reset my system and see results both physically and mentally.
If you're a dog owner you've likely heard the saying …
If your dog is overweight then you're not getting enough exercise.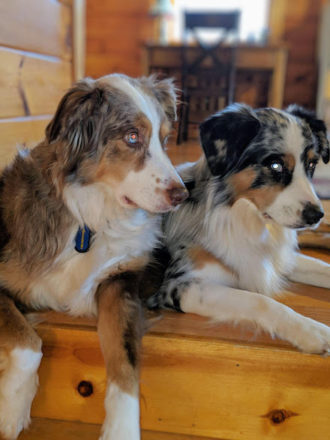 But what if the reverse is true?
Both my dogs score a perfect 4-5 on their body index, have lustrous coats, pearly white teeth, an abundance of energy, even-keel, loving personalities and never have any ailments or health issues.
My dogs have been eating real foods with a raw diet since birth and they are both super-fit and I'm the one with the problem … despite our long, daily walks (sigh).
It got me thinking. They eat real food.
In fact, they were eating better than I was on their raw food diet packed with healthy, natural and organic whole foods. They eat a variety of lean proteins and fresh vegetables and fruits chock full of all the right vitamins, minerals, and other good stuff. No processed crap.
I've been putting so much emphasis on the proper health and nutrition and feeding of my dogs and then it dawned on me …
I needed to put the same emphasis into my own health, nutrition and eating habits. I consider myself a relatively healthy eater, but something was off as I was no longer on my A-game.
Hmmm. Why don't I do the same thing?
I started researching real foods, and healthy recipes and stumbled upon Whole30. I'd not heard anything about it prior to this which surprised me. After lots of research, reading and thought it sounded like the perfect way to take the plunge into a cleaner, healthier lifestyle.
What is Whole30?
In short, it's an elimination diet that's designed to reset your outlook on food.
Whole30 founder Melissa Hartwig explains it …
Think of it as a short-term nutrition reset, designed to help you put an end to unhealthy cravings and habits, restore a healthy metabolism, heal your digestive tract, and balance your immune system.

Cut out all the psychologically unhealthy, hormone-unbalancing, gut-disrupting, inflammatory food groups for a full 30 days. Let your body heal and recover from whatever effects those foods may be causing. Push the "reset" button with your metabolism, systemic inflammation, and the downstream effects of the food choices you've been making. Learn once and for all how the foods you've been eating are actually affecting your day to day life, and your long term health.
What's NOT Allowed on Whole30?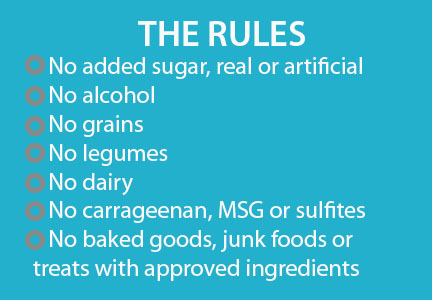 What Can You Eat on Whole30?
Eat whole, unprocessed, healthy foods with few or no ingredients.
Lean proteins – eat moderate portions of lean meats, seafood, and eggs
Vegetables (including all types of potatoes) – eating lots of vegetables is recommended
Fruits – while eating fruit is acceptable, this too should be done in moderation
Nuts and Seeds
Natural fats
Herbs, spices, and seasonings
For more details, here are the Official Whole30 Rules.
Let's see if I can eat as healthy as my dogs. That was the challenge I gave myself – The Whole30 Challenge to be exact.
And so my Whole30 challenge began.
Can I go 30 days eliminating all the crap and potential allergens from my diet and eat healthy, wholesome and nutritious real food? Can I go 30 days with no grains, legumes, gluten, dairy, sugar, artificial sweeteners, and alcohol? 30 days eating whole food – lean meat proteins, vegetables, fruits, nuts, and seeds.
The answer is YES!
There are enormous doggone benefits for me to eat real food too.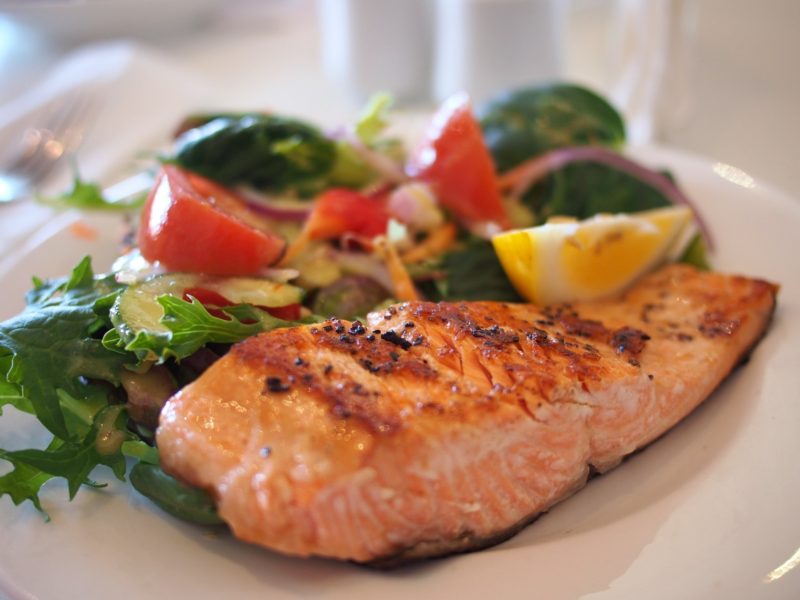 What do Whole30 and my Whole30 Challenge have to do with this website about real food for dogs?
I figured, why not share my real food journey to hold me accountable and help other people who may find themselves in a similar situation. And honestly, the majority of the diet, health and nutrition information is equally beneficial to dogs and people too.
I love the idea that I'm eating real food along with my dogs and as a result, we'll all have a better life! Gettin' fit with Fido and doing it together.
Real Food • Better Life
For dogs and people too! 😀
Follow along on my real food Whole30 challenge and take the challenge yourself.
Whole30 Survival Guide – Helpful Tips, Tricks & Healthy Hacks for Success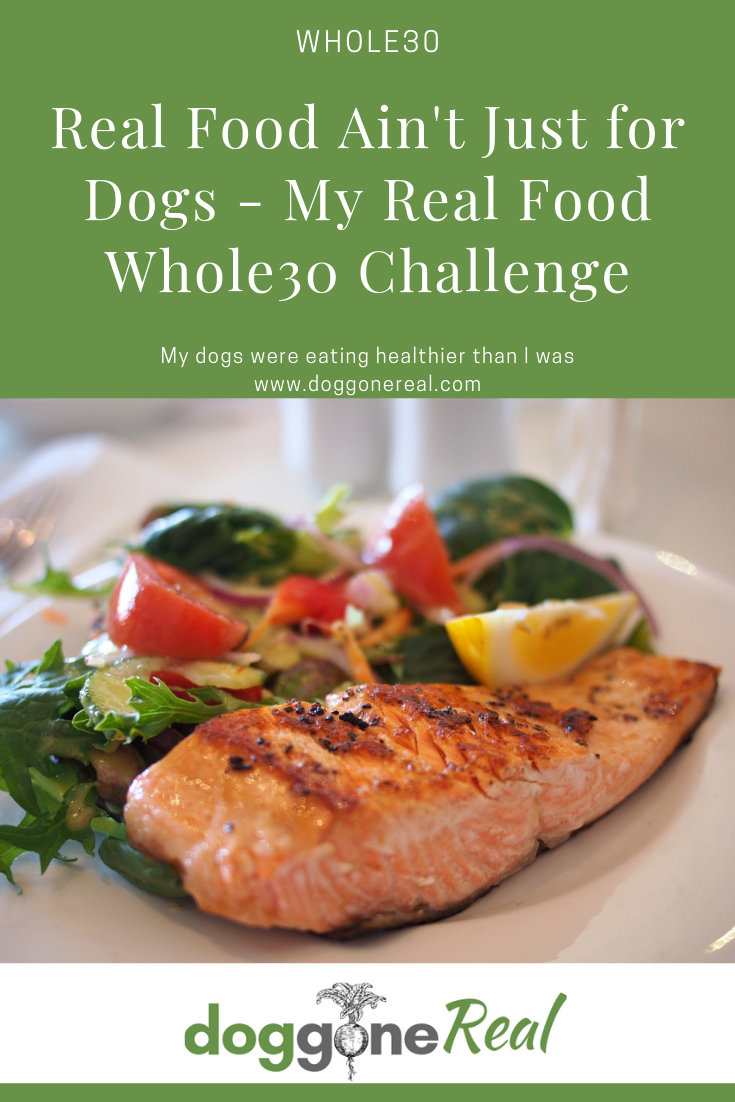 (Visited 590 times, 1 visits today)